Online Parenting Advice
Learn Once, Feel Confident Forever
The key to parenting successfully starts with confidence, your confidence in your own parenting abilities. Children, no matter how good they are all behave in a challenging way at times. Being able to meet those challenges with practical knowledge, love and confidence can make all the difference to your parenting adventure, leaving you happier as a parent and your kids warm and secure in your leadership. Think of it as learn once, feel confident forever.
CLICK HERE FOR HELP WITH YOUR FAMILY
Online Parenting Advice
Personal, private and confidential consulting service that offers parents the keys to both solving children's challenging behaviour and preventing it. With two packages to choose from you can be guaranteed you'll find the support you need...
Learn More
Parenting Seminars
Designed for groups. In person and/or Skype workshops for parent, community and business groups teaching parents how to banish challenging behaviours with solutions to picky eating, temper tantrums, sleeping issues and so much more...
Learn More
As Seen On

Recent Posts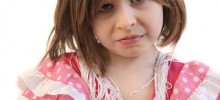 Hi Annie, Our niece Kaitlyn is about 3 1/2 years old and runs the show. Kaitlyn tells her mom and dad what to do. She wants nothing to do with anyone unless she can be the boss; she does not respond to questions from adults (gets no input from her parents in this regard) and […]