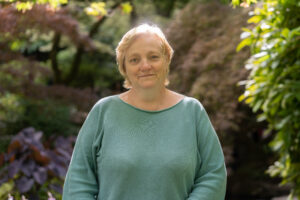 About Annie.
Anna Lussenburg, commonly known as "Annie the Nanny," spends her time solving all kinds of young children's behaviour problems. Trained in England (NNEB), she has had 30 years of experience in the field and has the exact same training as Jo Frost on Supernanny and Nanny Deb on Nanny 911. She started her behaviour intervention business in 2004, and since then she has been giving practical advice to families and dealing with everything from temper tantrums to sleeping issues to picky eaters and more, helping turn chaos into calm. She's featured in all kinds of media, including regular appearances on CTV, appearances for Global and CBC, and other print media such as Today's Parent, the Calgary Herald, and more.
Describing herself as a keen student of human nature, she looks at why children display behavioural issues, how to fix them, and how to prevent them from showing up in the future. She's also almost finished a book, which details her observations. Annie has both the skill set and experience to help parents deal with their child's most challenging behaviours. She's also a very happy mom of three grown kids.
What's Annie's philosophy?
In Annie's view, parenting has become too confusing for parents. There is simply too much conflicting advice out there, leaving many parents unsure of what to do. You can read more about her thoughts in this article, the problem with parenting today. Annie helps parents understand what their child is really looking to them for and gives them the practical tools to provide it. Helping parents get the fundamentals right so they can give their children the foundation for a healthy future is her most important goal. She considers herself to have the best job in the world! For help with your parenting, visit Annie's parenting services page.